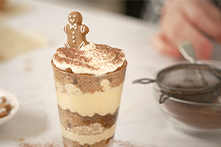 This luxurious and creamy tiramisu is like a classic tiramisu but better – it's Christmassy. The individual latte glasses are filled with a delicious stem ginger sponge, mascarpone filling, brandy & coffee syrup and topped with whipped cream.
Ingredients
Ingredients for the cake layer:
110g buttermilk – room temperature
190g self-raising flour
1 tablespoon ground ginger
2 teaspoon ground cinnamon
3/4 teaspoon baking powder
150g light muscovado or soft brown sugar
110g soft unsalted butter – room temperature
2 Clarence Court Burford Brown eggs – room temperature
20g black treacle
90g stem ginger in syrup, pureed (blend until smooth)
Ingredients for the coffee syrup:
20-25g good quality instant espresso powder (or use fresh strong espresso from a machine)
150g caster sugar
150ml boiled water
50-75ml brandy to taste (optional – reduce the boiled water by the amount of brandy that you're adding)
Boil the water and stir in the coffee and sugar until all of the sugar granules are completely dissolved. Set aside until ready to brush over the sponge and add to the glasses.
Ingredients for the filling and cream topping:
3 Clarence Court Burford Brown egg yolks
120g golden caster sugar
1 teaspoon vanilla bean paste
50ml brandy (optional)
250g tub mascarpone – room temperature
350ml double cream
1 teaspoon cocoa powder, plus extra for serving
Ginger biscuits/ gingerbread men (optional)
Utensils:
A stand mixer with a paddle attachment (or bowl and wooden spoon)
A selection of round cutters
2 X piping bags, fitted with a large round nozzle, or cut a hole (one for whipped cream, the other for the filling)
Rectangular baking tray/s lined with baking parchment
Marzipan guide sticks (optional)
Rolling pin
Method
Method for the cake layer:
Preheat the oven to 180C.
Grease and line the rectangular tray.
Sift or whisk together the flour, baking powder and spices to combine
Cream the butter, sugar, treacle and ginger on medium speed for a few minutes until pale and fluffy
Add the eggs one at a time combined
Add the flour and buttermilk in increments of 2, flour then buttermilk until all mixed in.
Add the mixture to a tray, level and then bake for 15-17 mins or until risen, springy and a skewer comes out clean when inserted into the middle of the sponges.
Brush over the sponge with coffee syrup using a pastry brush to coat the top, leave to soak in for a couple of minutes then brush over a second time.
Leave to cool in the tin for a few mins then flip out onto a paper lined cooling rack and peel back the parchment paper carefully to allow to steam off and cool completely.
Method for the filling and cream topping:
Beat the egg yolks, sugar, vanilla and brandy using an electric whisk in a heatproof bowl over a pan of lightly simmering water for 10 minutes or until pale and light.
In a separate bowl, beat the mascarpone and 200 ml of the cream together with an electric whisk until the mixture holds soft-stiff peaks. Gently fold the egg yolk and cream mixtures together with a spatula, being careful not to over-stir, place in a piping bag.
Assembling the tiramisu:
Cut the right size circular sponge for the bottom of your glass.
Pour/brush the coffee syrup over.
Pipe over an even layer of filling.
Cut a disc of sponge.
Pipe on cream.
Repeat as you think necessary to fill your glasses.
To finish, whip up the rest of the double cream, pipe on top and dust with cocoa.
If you wish you can add a little gingerbread biscuit or crush ginger biscuits for a bit of gingerbread crumb.