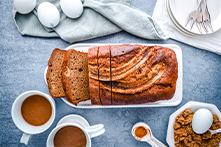 Harrie, AKA 'Boo to a Goose' has produced a delicious gluten free and dairy free banana bread. Perfect sliced and enjoyed as a light snack or toasted with a spread of something sweet.
Ingredients
240g Buckwheat flour or plain gluten free flour
160g light brown sugar
2 teaspoons baking powder
2 teaspoons ground cinnamon
3 mashed banana and 1 whole for decorating
1 large Clarence Court egg
140g Alpro unsweetened yogurt
60ml vegetable oil
80ml Maple Syrup
Method
Preheat oven to 160c and line a loaf tin with greaseproof baking paper.
Sieve the flour, baking powder and cinnamon into a large bowl.
Add the sugar and stir well until evenly combined.
Add the mashed banana, the egg, yogurt, oil and maple syrup and mix well to form a smooth batter.
Pour batter into tin.
Slice extra banana in half-length ways and lay on top.
Bake for 50-60 minutes until deep golden brown and cooked through.
This cake will keep well for at least a week but once past its absolute best after 2-3 days it is delicious toasted in thick slices and spread with peanut butter or honey!