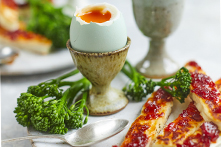 Fancy a change to toast with your boiled eggs then try these halloumi and Stokes Sauces Chilli Jam dippers as a weekend treat. Crispy fried halloumi, sweet and spicy chilli sauce and a dippy egg yolk make a perfect brekkie. Keep it a little balanced by serving alongside tenderstem broccoli or asparagus spears...
Ingredients
4 Clarence Court Burford Brown eggs
3 tablespoons 'Stokes Chilli Jam'
200g halloumi cheese
Olive oil
Method
Cut the halloumi into 'soldiers' or just slice into strips then place in a large mixing bowl. Toss in 1 tbsp olive oil and place to one side. Place a large non-stick frying pan on a medium heat. Add the halloumi and fry in batches until golden, keep the mixing bowl for later in the recipe.
Boil the eggs to your liking (soft boiled is best for these dippers).
Once the halloumi is cooked, carefully remove each slice and spread over the chilli jam. Return back to the pan to keep warm.
Serve your eggs in cups with the halloumi and sweet chilli dippers on the side (along with greens if you fancy…)