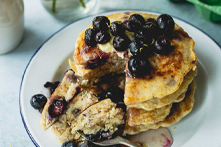 Instagram foodie @shecanteatwhat shares this absolutely delicious Gluten Free recipe. Light and fluffy, this gluten free blueberry and lemon buttermilk recipe makes for the perfect stack.
Ingredients
300ml Almond Milk
1 tablespoon Lemon Juice
200g Gluten Free Plain Flour
50g Rolled Oats, alternatively use Gluten Free oats
1 and 1/2 teaspoon Baking Powder
1/2 teaspoon Baking Soda
1/2 teaspoon Salt
1 tablespoon Brown Sugar
1/2 Zest of a Lemon
1 Clarence Court Egg
25g Unsalted Butter, melted, plus extra for frying
150g Blueberries
Maple Syrup, to serve
You can find and buy all of the ingredients on Milk&More.
Method
First make the buttermilk by combining the milk and 1 tablespoon lemon juice and whisk together. Let sit for 5-7 minutes to 'curdle'.
Mix together the flour, oats, baking powder, baking soda, salt, sugar and lemon zest in a large bowl.
Beat the egg with the milk, make a well in the centre of the dry ingredients and whisk in the milk to make a thick batter. Try not to over mix.
Beat in the melted butter and place the batter back in the fridge for ten minutes to rest.
Heat a small knob of butter in a large non-stick frying pan.
Drop two large tablespoonful of the batter per pancake into the pan. Scatter the batter with blueberries. Cook for about 3 minutes over a medium heat until small bubbles appear on the surface of each pancake, then turn and cook another 2-3 minutes until golden.
Cover with a clean kitchen towel to keep warm while you use up the rest of the batter.
Serve with maple syrup and the rest of the blueberries.