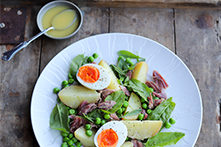 Shredded smoked ham hock, potatoes, peas and greens, crowned with a Clarence Court Burford Brown egg and dressed with a honey mustard dressing. A satisfying salad that can be assembled with precooked ingredients and lasts well in the fridge for a few days – the ideal packed lunch. Prepare a few portions ahead of time and keep them in the fridge for a tasty, nutrient-dense grab and go lunch.
Ingredients
Ingredients for the salad:
120g frozen peas, defrosted
2 Clarence Court Burford Brown eggs, hard boiled
3 medium Desiree potatoes, boiled
Large handful of watercress, rocket or sorrel
80g smoked ham hock, cooked
Sea salt
Black pepper
Ingredients for the dressing:
1 teaspoon dijon or whole grain mustard
1 teaspoon honey
1 tablespoon red or white wine vinegar
2½ tablespoons olive oil
Method
Whisk the dressing ingredients together until fully combined.
Take the salad ingredients and divide them between two plates.
Season with a pinch of sea salt and some freshly ground black pepper.
Drizzle the dressing over the salad and serve immediately.
If you are having this as a packed lunch then leave the dressing off it and pour it on just before eating it.