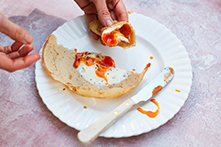 Chef Emily Dobbs moved to Sri Lanka in 2019 to set up a new hotel and restaurant 'Palm Hotel'. Since then, her first cookbook Weligama shares her favourite Sri Lankan-inspired recipes.
Emily's crispy egg hopper is a native street food, perfect for breakfast, made from fermented rice and coconut batter, and cooked to a spongey bowl-shaped pancake in a special wok called an appachetti. It's delicious filled with curry too!
Ingredients
20g dried yeast
400ml coconut milk
1 tablespoon caster sugar
300g rice, spelt or buckwheat flour
300g tapioca flour
1 teaspoon bicarbonate of soda
500 ml fizzy water
6 Clarence Court eggs (1 per serving)
Method
Whisk the yeast, coconut milk and caster sugar in a large bowl (the batter will rise!) Cover and leave for 30 minutes in a warm place until it starts to bubble.
Mix the flours, coconut milk, bicarbonate of soda and fizzy water. Whisk and leave for a minimum of 1 hour (Emily recommends leaving overnight in a warm place – the longer you leave it the sourer tasting and more fermented your hopper will be)
Once your hopper batter is bubbly and smells a bit like beer, it is ready. Heat your hopper pan (also known as an appachetti) until it is hot but not smoking. Ladle about half a cup of batter into the pan and, once it starts to bubble, swivel a full 360-degree turn to coat the sides of the pan. Crack an egg into the middle of the hopper and season with salt and pepper.
Cover the pan with a lid or tin foil and steam for 2-3 minutes until the sides of the hopper start to separate from the pan (and the egg is cooked). With a wooden spatula, carefully remove the hopper and serve hot.
Every time you use the hopper mix, give it a good stir with a whisk, as the batter will separate. You can freeze the mix freshly made but if not, the batter only lasts a day or so.