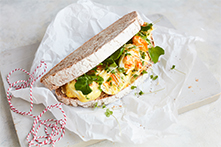 Sourdough bread offers a subtle twist on the traditional lunchbox staple. Follow this recipe for a light and delectable egg sandwich.
Ingredients
2 Clarence Court Burford Brown eggs
3 tablespoons rapeseed mayonnaise
Salt and freshly ground black pepper
4 slices good quality sourdough bread
Softened unsalted butter
A few pinches salad cress
A small handful watercress
Method
Start by boiling the eggs. Place a small pan of water on to boil. Carefully pop in the eggs and boil for 7-8 minutes. When time is up run the eggs under cold water to cool down quickly. When cool, peel the eggs and slice. In a small mixing bowl add the mayonnaise and season with salt and pepper. Add the eggs and gently turn to coat. Butter the slices of bread and divide eggs between both sandwiches. Top the egg mix with clumps of cresses and top with a slice of bread. Enjoy!