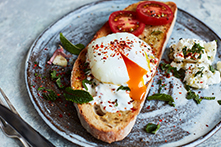 A perfect breakfast to brighten any morning. Light, simple and full of flavour. Any Clarence Court hens egg is perfect for this dish or a fried duck egg if you fancy it.
Ingredients
1 Clarence Court hens egg
1 clove of garlic, peeled
50g thick greek yoghurt or labneh
1 large slice of good quality bread like sourdough
Extra virgin olive oil
A few slices of fresh ripe tomatoes
Turkish chilli flakes (pul biber)
A few sprigs of freshly picked mint and roughly chopped
A little feta or turkish cheese
Method
Start by poaching the egg to your liking. Finely grate a couple of scrapes of garlic into the yoghurt. Toast the bread, drizzle with a little olive oil and rub the cut side of the remaining garlic clove on to the bread.
Spoon a little yoghurt on the the toast, arrange a few slices of tomato next to it. Pop the poached egg on top of the yoghurt, scatter with turkish chilli flakes and mint.
Serve with a little crumbled cheese on the side.