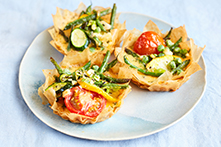 These tarts are pretty quick and simple to throw together. Make a larger tart if you fancy and mix up the vegetables to suit. Eggs bring this recipe together and set everything like a frittata making them perfect to eat straight from the oven or cold in for a picnic or packed lunch.
Ingredients
3 Clarence Court hens eggs
1 pack of filo pastry (you will have some pastry left over)
Olive oil
20g mixed nuts finely chopped
1 teaspoon dried oregano
2 courgettes, sliced
100g green beans or runner beans, sliced
100g asparagus, sliced
5 spring onions, sliced
2 or 3 small tomatoes, halved or sliced
Salt and pepper
Zest of 1 lemon
A small bunch of mixed soft herbs, leaves picked and chopped (mint, dill, parsley)
120g creme fraiche
50g fresh or frozen peas (if using fresh peas you will need to cook them in boiling water for a 2-3 minutes before hand)
50g feta cheese
Method
Pre-heat the oven to 180 degrees celsius/ 350 degrees fahrenheit/ gas mark 4.
Cut the pastry into squares that are just big enough to line the pastry cases with a little overhang. Cover the filo with a lightly damp cloth to stop it from drying out. Lightly brush the pastry case with oil and layer a filo square, brush with a little more oil and then sprinkle with the nut and oregano mix. Repeat this with 3-4 more squares, making sure the squares are at different angles each time. Place the pastry cases on a baking tray and bake the cases in the oven for 10 minutes until golden.
Place all of the vegetables (a part from the peas) in a roasting tray and toss with a little oil,salt and pepper. Pop the tray in the oven and roast for 10 minutes along with the pastry case.
Once cooked take the vegetables and pastry cases out of the oven. Mix the eggs, lemon zest, creme fraiche, crumbled feta cheese and peas. Toss the vegetables in the mixture along with the chopped herbs. Layer the vegetables and the mixture in to the pastry cases and bake in the oven for around 20 minutes or until set. Remove from the oven and serve warm or cold. Like most filo pastry tarts of pies, these tarts benefit from a re-heat in the oven to crisp up the pastry again.