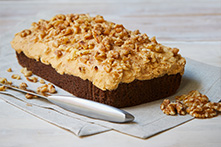 This coffee and walnut cake is the perfect winter warmer.
Ingredients
225g unsalted butter
225g caster sugar
4 Clarence Court Braddock White Duck eggs
225g self raising flour
100ml milk
50ml/1¾ fl oz strong espresso coffee
1 Vanilla pod
75g walnuts
For the topping
125g unsalted butter
200g icing sugar
50ml/2fl oz strong espresso coffee
Walnuts to decorate on top
Method
Preheat the oven to 180C and line a loaf tin with baking parchment.
Using an electric mixer, whisk together the sugar and butter. Add the beaten eggs, one at a time, making sure they are well mixed together.
Add the vanilla, coffee mixture and milk then reduce the mixer to the slowest speed. Add the flour 1 tbsp at time. When it has all been added, turn off the mixer and fold together until the flour is just combined – you do not want to over beat it.
Fold in the walnuts and add to the loaf tin. Bake for approx 55 minutes until a skewer comes out clear. Allow to cool completely.
For the icing beat the butter in a small bowl until pale and smooth then gradually beat in the icing sugar. Next add the espresso and mix well.
Spread over the cakes and add any leftover walnuts as decoration.