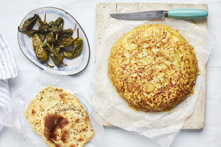 This simple Spanish classic (also known as a Spanish omelette) is easy to make and full of flavours. The perfect addition to a tapas spread, add in any ingredients you fancy or enjoy simply as it comes.
Ingredients
5 Clarence Court Braddock White duck eggs
250ml olive oil
2 medium onions, thinly sliced
500g waxy potatoes (peeled and cut into slices like thick crisps, a mandoline or y-shaped peeler will help this)
100g good quality crisps cooked in olive oil
Sea salt and freshly ground black pepper
2 tablespoons extra virgin olive oil or cold pressed rape seed oil
Method
Place a large frying pan on a medium heat, add olive oil and gently heat. Add the onions, turn down the heat and cook for around 15 minutes until soft. Spoon the onions into a bowl and drain the oil from the pan.
Crack the duck eggs into a large mixing bowl and whisk well, seasoning with salt and and pepper. Tip in the onions, potatoes and crisps and allow to steep for around 10-15 minutes.
Place a small (20cm) frying pan on a medium eat and add the extra virgin olive oil. Swirl the oil around the pan then tip in the egg mixture. Cook for around 4 minutes or until it looks like it's setting and starting to come away from the edges of the pan. Very carefully and quickly using a chopping board flip the tortilla over and slide it back into the pan. Cook for a further couple minutes until it feels light and springy not hard and set.