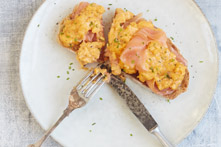 One of our favourite pairings, smoked salmon and scrambled eggs. Perfect for a weekend brunch.
Ingredients
4 Clarence Court Burford Brown or Old Cotswold Legbar eggs
Salt and ground black pepper
20g unsalted butter
4 slices smoked salmon
2 large slices bread
Method
Start by cracking the eggs into a mixing bowl and seasoning well with salt and pepper. Whisk well and place to one side.
Place a medium non-stick frying pan on a medium heat. Add the butter and melt until starting to froth a little. Turn the heat down to low.
Meanwhile, toast your choice of bread.
Quickly pour the eggs in to the pan and leave for a few seconds then carefully drag a wooden spoon of spatula through the pan to allow the eggs space to cook. Do this until you have cooked the eggs to your liking and remove from the heat.
Butter the toast, lay over the salmon and top with scrambled eggs.