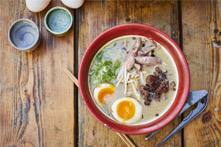 Rich, flavoursome and satisfying. Use delicious duck, noodles and Clarence Court eggs to make this moreish Japanese dish when you crave something comforting yet light and wholesome. There are only three main steps to making this ramen recipe: prepare the broth, cook the duck and boil the noodles. Serve all three together and you'll have a delicious dinner.
Ingredients
1kg duck carcass/bones (saved from roasted duck)
50g leeks (green part)
2 garlic cloves
2cm ginger
2 dried Shiitake
5cm Konbu (optional extra)
4 0.5 tsp sea salt
4 110g fresh noodles (find a good quality ramen noodle or replace with another noodle)
2 confit duck legs (skin removed, then pull the meat off the bone into nice chunks)
Bunch finely sliced spring onions
200g blanched bean sprouts
4 Clarence Court duck eggs (soft boiled, approx. 7- 8 minutes, then peeled)
100ml soy
100ml water
10g sugar
Mix all together then marinate the egg overnight if possible but for at least 3-4 hours.)
200g canned and drained bamboo or vacuum packed cooked bamboo
5g sesame oil
100g soy
10g sugar
2g chilli flakes
Stir fry in the sesame oil till dry then add remainder of ingredients. Cook until dry.
Method
For the stock- makes 2 litres (Use 4 x 300ml portions)
In a deep saucepan, cover the duck with 4L of water, bring to a simmer and skim.
Add all the other ingredients, bring to boil.
Boil continuously for at least 4 hours (the longer the better), topping the water back up as it reduces.
Towards the end of the cook, allow the stock to reduce by around a half to 2L. The stock should now be a little creamy in consistency and colour.
Pass the stock through a fine sieve, returning the liquid to the pan.
To make the Ramen:
Prepare all ingredients above and have them laid out ready to use quickly.
Set up a pot to hold your stock hot and another with boiling water to cook your noodles.
Place 1/2 tsp of sea salt into four bowls and then the 300ml hot stock into each.
Whisk this to combine the salt, you can add more to taste, if you like. Cook the noodles, drain and divide them between the four bowls.
Top with the pulled confit duck meat, bean sprouts, bamboo, duck egg & sliced spring onion.
Serve immediately whilst it is piping hot, Enjoy!