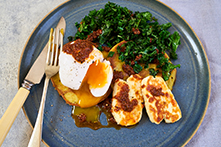 Madeleine Shaw shares one of her go-to comfort foods. Packed with protein, loaded with flavour and shining with golden colours, this is a surprisingly simple supper to knock up when you get in from work.
Ingredients
For the dressing:
1 teaspoon cayenne pepper
2 tablespoons cumin
2 tablespoons tomato concentrate
4 tablespoons lime juice
100ml olive oil
Salt and pepper to taste
For the chickpea pancakes:
400g can chickpeas, rinsed and drained
2 Clarence Court hen eggs of your choice
3 tablespoons almond milk / whole milk
5 tbsp chickpea flour / gram flour
1 teaspoon baking powder
1 teaspoon parsley, finely chopped
Salt and pepper
And the rest:
Olive oil, for frying
4 Clarence Court duck eggs
150g halloumi, sliced 1cm thick
50g kale, finely chopped
Salt and pepper
Method
Mix the dressing ingredients together. Set aside.
Blend all the chickpea pancake ingredients together.
Heat a splash of olive oil in a pan. When it's hot, spoon out 2 heaped tbsp of the pancake mixture and cook for 2 minutes either side. Repeat with the rest of the mixture – you may be able to fit 2 or 3 in your pan. Cover with foil to keep warm.
Fill a saucepan ¾ full with boiling water. Add a pinch of salt. Crack one duck egg into a small ramekin and then slowly pour the egg from the ramekin into the boiling water to poach. Cook for 8-9 mins for a nice runny yolk, or 10-11 if you prefer yours firm. We like to poach 2 eggs at a time.
Heat a pan on medium heat with a little olive oil. When it's up to temperature, add the halloumi and kale. Flip the halloumi after a few minutes and stir the kale until it's crispy.
Serve your pancakes with poached eggs on top, and a side of crispy kale and halloumi. Top with the spicy dressing and enjoy!