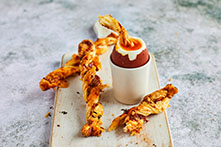 Cook your favourite Clarence Court egg according to your liking- 6-7 minutes usually achieves a deliciously runny egg. Cheese and marmite straws are a great dippy egg dipper.
Ingredients
1 sheet of pre-rolled puff pastry
2 teaspoons Marmite
70g grated cheddar cheese
1 Clarence Court egg, beaten
A few sprigs of thyme leaves picked
A pinch of smoked paprika
Method
Preheat the oven to 180c/gas mark 4/350f.
Line a baking sheet with greaseproof paper.
Spread the marmite over the sheet of pastry and scatter two-thirds of the grated cheese.
Fold the sheet in half and cut into thin strips.
Carefully twist each strip into a cheese straw and place them on the lined baking sheet.
Brush each straw with beaten egg and sprinkle over a little smoked paprika, thyme leaves, and the remaining cheese.
Bake in the oven for 15-20 minutes or until golden.
Remove from the oven and serve warm or cold with a dippy egg.