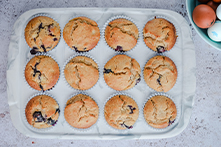 These super simple blueberry and banana muffins by Harrie from Boo to a Goose are the ultimate lockdown pick-me up. You can opt for a milk or flour alternative, and swap the blueberries for anything you have to hand.
Ingredients
4 ripe bananas mashed
40g gluten free oats
60ml of almond milk (or milk of your choice)
125ml of maple syrup
250ml vegetable oil
2 Old Cotswold Legbar eggs
1tsp cinnamon
2 cups (250g) of gluten free self-raising flour
1 cup of blueberries
Method
Carefully stir together in a large bowl everything apart from the flour and berries, and then leave to stand for 15 minutes.
Meanwhile, pre heat the oven to 180c.
After 15 minutes, sieve the flour and stir in the blueberries.
Spoon into muffin cases and bake for 15 minutes or until golden brown. Remove from the oven, allow to cool and enjoy with a cup of tea.