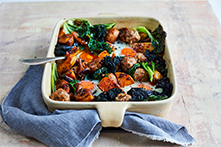 Another great way of using leftovers this dish can be eaten anytime! Eggs bring this dish together perfectly. Serve with bread to mop up the juices.
Ingredients
4 Clarence Court Burford Brown eggs
4 fennel sausages
400g mixed roasted root vegetables (squash, potatoes, carrots, parsnips)
A pinch of chilli flakes
150g mixed mushrooms, sliced
2 cloves garlic, crushed
Sea salt and freshly ground black pepper
300g pre cooked mixed greens (brussel sprouts, cabagge, cavolo nero, tenderstem broccoli)
1 pack pre cooked puy lentils
Method
Preheat the oven to 200C / 180F / Gas Mark 6.
Start by squeezing the sausage meat out of the skins and roll into even sized meatballs. Place the meatballs into a roasting tray and pop them in the oven to cook for 5 minutes. Remove the tray and add the roasted vegetables, chilli flakes, mushrooms and garlic. Season with salt and pepper and place in the oven for 10-15 minutes. Mix in the greens and lentils and cook for a further 5 minutes. Toss everything well and make 4 dents in the tray. Crack the eggs in the holes and cover the tray with foil, return to the oven and cook for around 5 minutes or until the eggs have set. Serve with chopped parsley and left over gravy or whole grain mustard.