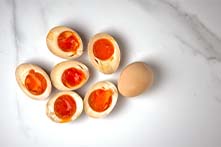 Delicious Soy marinated eggs, perfect for a warming bowl of Ramen soup and as a snack. A delicious blend of soy sauce, mirin, garlic and ginger for wonderfully sweet and salty, divinely marinated eggs!
Ingredients
6 eggs
1 tablespoon white vinegar
2 garlic cloves
3 slices of ginger
1 tablespoon brown sugar
1/4 cup soy sauce
2 tablespoons mirin sauce (optional)|
1 1/2 cups water
Method
Carefully prick the large end of the eggs with a needle or an egg piercer. This will allow the air to escape the shell to give you a smooth, rounded end to your egg.
Bring plenty of water to boil and add 1 tablespoon white vinegar. This will help make the eggs easier to peel, which is crucial to a perfect 'aesthetical' marinated egg. The marinade will cling to any imperfections in the egg otherwise, making them obvious.
Carefully dip the eggs in the boiling water and boil for exactly 6 minutes. Timing is critical to keep a slightly runny yolk.
As soon as 6 minutes are over, place the eggs in ice water for 4-5 minutes. Alternatively, you can run cold water over them for a minute or two (until the eggs are completely cooled down). This is crucial to stop the cooking process and keep the egg yolk creamy.
To prepare the marinade:
First, slice 3 pieces of ginger and chop or smash the garlic.
Heat up the soy sauce and mirin sauce together with the sugar, garlic and ginger. Keep on the heat for a couple minutes until the sugar dissolves and the mixture caramelises a bit.
Turn off the heat and add 1.5 cups of water. Remove the ginger and garlic.
Carefully peel the eggs. To have a perfect egg white surface, gently tap the egg against a hard surface to break the shell in multiple spots and they'll be easier to peel.
Transfer the eggs to a glass container and cover them with the soy sauce mixture. Marinate for a minimum of 3 hours (this can be done at room temperature, although any longer then I'd transfer them to the fridge).
In as little as 3 hours, you get marinated, slightly coloured eggs with a runny gooey yolk. You can then either remove the eggs and store them in the fridge for up to 4 days or leave the eggs in the marinade in the fridge.
These are now ready to add to your favourite dishes or eat as a snack. I love to enjoy them with a warming bowl of ramen.