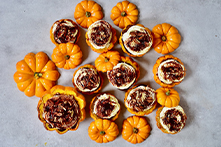 These Mini Pumpkin Cakes with Coconut Cream Frosting made with Clarence Court Burford Brown eggs are the perfect Autumnal dessert recipe. Served inside mini pumpkins, these unique and delicious pumpkin cakes are sure to impress. Usually served with sweet caramel frosting, AlphaFoodie has created a funky sweet/savoury combination.
Ingredients
9-12 mini pumpkins
2 cups wholewheat flour
3 teaspoons baking powder
1 teaspoon salt
1.5 teaspoon ground cinnamon
2 teaspoons pumpkin pie spice
1 cup coconut oil
4 Clarence Court Burford Brown eggs
1 cup brown sugar
2 cups pumpkin puree
1.5 tsp vanilla extract
Coconut cream for frosting
Pecan nuts
Method
Pre-heat the oven to 170c/365f/gas mark 3. Meanwhile, cut off the tops of the mini pumpkins and remove the seeds. In order to create a bowl, you may need to remove some of the flesh.
In preparation for the cake batter, mix the flour, sugar, baking powder, spices and salt. In a separate bowl, whisk in the eggs and melt and add the coconut oil, followed by the vanilla extract and pumpkin puree. Add the two mixtures together and mix thoroughly until combined.
Arrange the pumpkins on a baking try and carefully fill the pumpkin bowls with the cake batter. Place in the oven and bake for 30 minutes.
Once baked, let the pumpkins cool off before decorating them.
Meanwhile, whisk the coconut cream to make the frosting.
Using a piping bag, top each pumpkin cake with the coconut cream and sprinkle with some pecan nuts and date syrup. Enjoy as an Autumnal dessert!