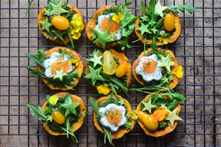 Alpha Foodie's Sweet Potato Toast : Bursting with nutritious goodness, Alpha Foodie's sweet potato toast is
perfect for a mood-boosting snack.
Ingredients
For toast:
1 Sweet potato
For topping:
A handful of cherry tomatoes
1/2 avocado
Dill
2-3 Clarence Court 'Free to Fly' Quail eggs
A handful of edible flowers
A handful of rocket
½ cup of kale
¼ cup extra virgin olive oil
1 garlic clove
¼ cup pistachios
Salt, pepper, and lemon juice to taste
Method
To make the toast, slice a sweet potato into 1/4 inch slices and pop into your toaster on the highest setting, till
lightly brown. Depending on your specific toaster you may need longer.
Crack each Clarence Court 'Free to Fly' Quail egg on to a hot pan and fry for 1-1½ minutes. Fry the egg in a
silicone mould for fun shapes.
For the kale pesto, ground the pistachios in a food processor. Then add kale, olive oil, garlic, lemon juice and a
pinch of salt and pulse till smooth.
Decorate the slice of sweet potato toasted earlier with the Clarence Court 'Free to Fly' Quail egg, edible flowers,
rocket, dill, sliced avocado (made into star shapes), salt, pepper and drizzle over the kale pesto.