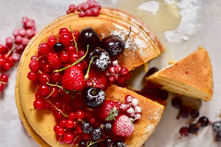 Beautifully more-ish thick, fluffy Japanese style pancake Cake! Completely refined sugar-free and perfect to serve with fruit, cream & Maple syrup!
Ingredients
4 Cups Plain sifted Flour
4 Cups warm Milk
1/2 cup melted Butter
4 tablespoon Baking Powder
4 Clarence Court Burford Brown eggs, whites and yolks separated
1 vanilla pod (optional)
4 tablespoon white vinegar
Toppings (Berries, maple syrup)
Cream (optional)
Method
To begin making this fluffy Japanese style pancake cake, start by sifting the flour and mixing all the dry ingredients together in a large bowl.
Separate the egg whites and yolks and then beat the egg whites until fluffy, soft peaks formed.
Make buttermilk by adding the milk and the vinegar (set aside)
Meanwhile mix together the butter, buttermilk and egg yolks together until thoroughly combined.
Combine the wet and dry ingredients (except the egg whites).
Gently fold in the egg whites being careful not to knock out too much air from the egg whites (otherwise you won't get lovely thick fluffy pancakes!)
Add maple and berries. Or if you're wanting a more decadent 'cake-style' recipe then whip up some cream as a 'frosting'.
To cook the pancakes, use an 8-inch pan with lid covered and use 1 & 1/2 cup mix per pancake (1 pancake per person) – they are large size.
Heat gently for around 20 mins, you need a nice low heat) Tip * Use a toothpick to prod the pancake and test that it is cooked all the way through.
Once cooked transfer to the fluffy pancakes to a plate and serve!