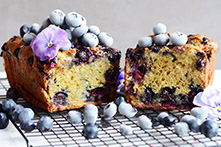 One of Alpha Foodie's all time favourites is this delicious, spring, blueberry loaf.
Ingredients
2 Burford Brown eggs
1/2 cup softened butter
1 cup sugar
2 cups white flour
2 teaspoons vanilla
1/2 tsp cinnamon
1/2 tsp cardamom (optional)
1 cup Greek style plain yoghurt
1 tsp bicarbonate of soda
1 tsp baking powder
1 lemon (zest and juice)
1 1/2 cups of blueberries
Method
Place the butter and sugar in a bowl and whisk, adding the eggs, yoghurt, vanilla and cinnamon. Mix well.
Add the flour, bicarbonate of soda and baking powder and mix together.
Add the blueberries gently folding them into the mixture.
Meanwhile, set the oven to 170C/Gas Mark 3 and bake for approximately 50-60 minutes or until golden brown and cooked through.
Leave to cool. Enjoy!