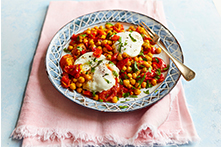 Alice Liveing's chickpea dish with a kick takes no time at all. Top with any of our golden stars along with a sprinkle of coriander. It tastes as good as it looks.
Ingredients
2 large Clarence Court Burford Brown Eggs
400g can of chickpeas
1 red pepper
A bunch of spring onion
3 salad tomatoes
2 garlic cloves
1 red chilli
A small handful of coriander
1 teaspoon of cumin
½ teaspoon turmeric
½ teaspoon bouillon powder
Olive oil
Method
Deseed and finely chop the chilli, garlic cloves, pepper and whites from the spring onions. Heat the oil in a pan and then add the chilli, garlic, pepper and spring onions. Fry for around 5 minutes. Meanwhile, place a medium saucepan of water on to boil.
While the water boils, chop the tomatoes into wedges and add with spices and chickpeas into your sauté pan. Cook for 1-2 minutes. Stir in the bouillon powder, add a few tablespoons of water and leave to simmer gently.
Once the water is boiled, crack in the eggs to poach.
Serve your chickpeas on a plate, top with a poached egg and garnish with some coriander.