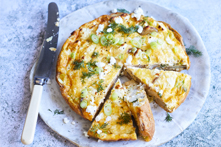 A superbly simple one-pan recipe, Alice Liveing's delightful frittata offers a healthy yet hearty meal that the whole family can enjoy!
Ingredients
4 Burford Brown eggs
250g cooked new potatoes, sliced
1 handful of dill
4 spring onions, finely sliced
100g feta, crumbled
Olive oil
Method
In a small non-stick frying pan, heat oil over a medium heat. Add potatoes, then fry until beginning to crisp, this should take around 8 mins. In a bowl, whisk together the eggs, spring onions, dill and some seasoning. At this point, turn on your grill.
Tip the eggs into frying pan, mix quickly, lower the heat, then sprinkle over the crumbled feta. After about 8 mins, once the top side has almost set, pop under the grill for 2-3 mins or until firm and golden. Slide out of the pan and serve!