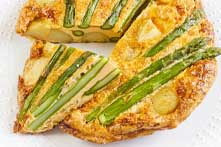 For a super simple, super delicious and super quick meal- look no further. This Asparagus and New Potato Frittata is the perfect mid-week dish.
Ingredients
6 Clarence Court Burford Brown eggs, whisked
200g new potatoes, cut in to quarters
100g asparagus
1 onion, finely chopped
1 tablespoon olive oil
Rocket, to serve
Method
Heat your grill to high. Put the potatoes in a pan of cold salted water and bring to the boil. Once boiling, cook for 4-5 mins until nearly tender, then add in the asparagus for around 30 seconds – 1 minute at the end. Drain and leave to stand.
Meanwhile, heat the oil in a large frying pan and add the onion. Cook this off until softened.
Pour your mixed eggs over the onion in the pan, then add the asparagus and potatoes. Place under the grill for 5 mins or until golden and cooked through. Cut into wedges and serve from the pan with salad.