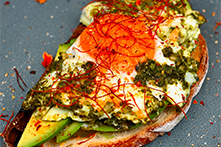 Alpha Foodie shares her pesto eggs recipe, made with fresh homemade basil pesto and Burford Brown eggs. The oozing golden yolks and fresh pesto compliments the eggs perfectly. This recipe is simple and versatile - try topping the pesto eggs onto avocado and sourdough for added deliciousness.
Ingredients
Ingredients for the basil pesto:
70g basil (or a combination of basil and spinach)
50g pine nuts or walnuts
140ml extra virgin olive oil
1 teaspoon salt
2 garlic cloves
70g pecorino cheese, finely grated
30g parmesan, finely grated
Ingredients for the pesto eggs:
3 tablespoons pesto
2 Clarence Court eggs
1 avocado, thinly sliced
2 slices of sourdough, toasted
Salt and pepper
Pinch of chilli flakes
Sprinkling of saffron
Method
If using a pestle and mortar, add the garlic and salt to your mortar and use the pestle in circular motions to grind it into a thick paste-like consistency. Now add the basil leaves in increments and make sure to grind in circular motions around the mortar walls to break up the leaves without just breaking them into tiny pieces – do this until all the basil has been added. Now add the pine nuts, grinding in-between, before adding the finely grated cheese. Finally add the olive oil, do this a little at a time, grinding your pestle in-between for a silky pesto.
If using a food processor, lightly pulse the garlic, pine nuts, and basil until finely chopped (but not pureed). Slowly drizzle in olive oil as the machine runs (if your food processor doesn't have a spout, you can simply add olive oil a little bit at a time and blend for a few seconds in-between each addition). Finally, add the cheese and pulse a few times to thoroughly combine all the ingredients.
Heating a non-stick frying pan to medium-high heat, spread your pesto around and let it heat up until it begins to sizzle (you'll see the oil and pesto begin to separate).
Now crack your eggs into the pesto and let the egg cook slowly without turning the heat up, this is to prevent to pesto from burning.
Sizzle your eggs away until ready to serve with your slices of sourdough toast, avocado, seasoning and a light sprinkle of saffron. Now enjoy!