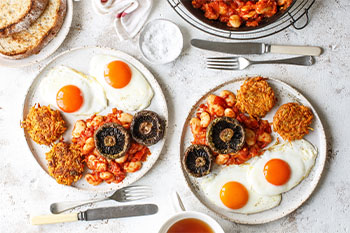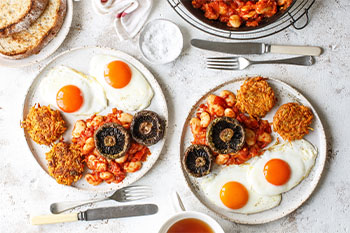 Does the time of day you eat a big meal really matter? Research published in The Times this week shows that it's better to eat a big breakfast first thing in the morning.
Over a three day period, the researchers tested 16 men who ate a small breakfast and a large dinner, then reversed the calorie count with a large breakfast and small dinner.
The results showed that filling up in the morning boosts metabolic processes and diet-induced thermogenesis is twice as high in breakfast eaters. A big breakfast reduces blood sugar levels and insulin concentrations and a small breakfast actually increases appetite in the day, particularly for sweets.
It no surprise that we love breakfast and for us, there's nothing better than eggs in the morning. Packed full of protein and essential vitamin and minerals, they're both delicious and nutritious, so well worth incorporating them into your big breakfasts.
Deciding what to have every morning can be a struggle, for an exciting and scrumptious start to your day, take a look at our website for delicious recipes.
Not sure where you can buy Clarence Court eggs? Find your nearest stockist here.